Life for Miya Folick is often a series of six degrees of separation, all leading back to the steely architectural masterpiece that is Walt Disney Concert Hall. Folick is currently preparing to honor the iconic Yoko Ono after being hand selected by organizers GIRLSCHOOL, alongside Shirley Manson and St. Vincent, to bring to life a one-time-only experience called BREATHEWATCHLISTENTOUCH: The Work and Music of Yoko Ono. 

The singer/songwriter first became involved in GIRLSCHOOL, a collective that focuses on empowering "women-identified and gender-expanded artists, leaders, and voices", when she performed at the organization's second-ever festival in 2016. "It ended up being a really important show for me because the person who ended up signing me—whose name is Ethan Silverman [of Terrible Records]—saw me play at that show," Folick recalls. "I remember that show so well, because it was one of the biggest shows we had ever played at the time."

But the downtown Los Angeles monument that she will be performing at on March 22 has held a deeper meaning for her since childhood. "I grew up studying classical voice and my uncle—one of his friends introduced me and my parents to this organization called the Classical Singers Association," she explains. "When I was a young teenager, my parents would drive me to downtown LA because I lived in Orange County and we would attend these master classes with opera singers at the rehearsal room at the Walt Disney Concert Hall. So I think the Disney Concert Hall has kind of held this space in my mind of like, it's just this history of work, of learning, and also a beautiful acoustic space to perform." She also attended her first Fiona Apple concert there and took a crash course in welding trivia.

I wanted to occupy a similar realm of women showing all sides to being a woman, which is to be a human, which is to be angry and rough and soft and pathetic...all of these things

"I once took this welding class as like, 'Let's learn something we don't know yet,' and the teacher of the welding class is like one of the lead welders on the roof of the Disney Concert Hall," she says with a laugh. "It was insane that people welded that roof because it looks like aliens made it."

Over the last few years Folick has galvanized a fan base of listeners eager for a tangible connection to their favorite artists. Born in Santa Ana, California, Folick was raised Buddhist but learned to play taiko drums at church while eventually moving into her aforementioned classical music pedigree. She attended New York University for acting, but later transferred to University of Southern California, and during her break she learned to play the guitar. The story of her Tinder profile helping her start her band has now become the stuff of legend, as it rightfully should be since it brought her here. While some people leave Tinder with dick pics, Folick left with a band that she still rocks with to this day.

Her 2018 debut album Premonitions delivered on that promise she made to herself in beginning her late teens, when it finally clicked that she could find artists whose music resonated with her in a way that inspired her to create a movement, all Tinder profiles aside. "I wanted to occupy a similar realm of women showing all sides to being a woman," she adds, "which is to be a human, which is to be angry and rough and soft and pathetic...all of these things. Just not limiting themselves to what people are comfortable with."

Playboy talks to Yoko Ono ahead of her new album, 'Warzone'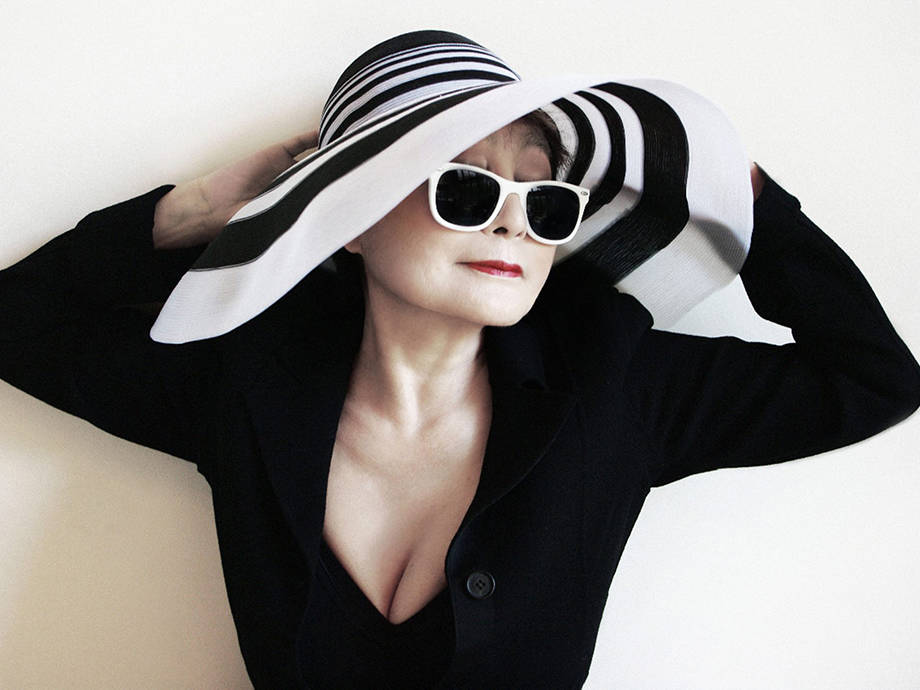 Premonitions' lead single "Stop Talking" was like an electric current of feels, starting with the opening line, "I generally don't like to talk about the idiosyncrasies of an obvious fool." And that's been Miya's whole angle to the music she makes. Every line counts, punctuated with a voice that's near flawless. But with that responsibility comes the stress of maintaining that momentum, which has caught up to her relatively quickly. "There's something very difficult to express about why it's exhausting to be a frontwoman," she says. "Because you're providing this service to people of catharsis and you get a lot of honest reactions from people that are often really positive and sometimes really uplifting...and sometimes really sad. I think the volume of the signal coming back to you is more than what humans can handle. I can't imagine what it's like to be a bigger artist. But even as an artist on my level, it's really tiring. You can't anticipate that specific kind of drain. I think that I can take it, I'm just learning how."
Her greatest solace lies in her sense of community, aligning with individuals like Bulbrook and other artists who understand that creativity comes with a whole other level of anxiety. "There's a certain stress to having to explain why you're stressed out, only making you more stressed," she says. "Part of me understands like maybe I shouldn't be stressed out. A lot of the things I go through are difficult, but it's all in service of something I believe in and that's amazing to be able to spend time doing things I care about."
It's easier to relay this message to other musicians, particularly other women. "When I'm with a community of women in music, I feel seen. And I can see them."
Homages
to Yoko Ono
and creating an album that's both critically acclaimed and widely received on stages across the country has given Miya Folick the push to keep on going. "The first album was an intense process and I was like, 'Omg I have to do this again and again?'" she expresses. "But I'm really excited to make a second album, and I'm fucking relieved that I can say I'm excited to do it again."